Member
Join Date: May 2016
Posts: 69
(Thread Starter)
2018 Audi S4 Performance
---
The 2018 Audi S4 is here and it's packing a bit more of a punch.
Single turbo, the 3L TFSI 6 banger is putting out 354hp and 369lb-ft of torque. That's an increase of 21hp which doesn't seem like a lot, but it works it's way in. Peak torque is achieved between 1370rpm and 4500rpm. Mated to an 8-speed transmission that has been beefed up a bit to withstand the higher low-end torque values. Of course Quattro comes standard, but there's an optional Quattro sport rear differential.
0-100km/h in 4.7 seconds which makes it quicker than the BMW 340i xDrive which hits 0-100km/h in 4.9 seconds.
Quote:
As for the chassis, the reworked suspension ensures a sporty driving experience while providing grateful occupants with a gentler ride over long distances, according to Audi. Drivers can select any of four driving modes: Comfort, Auto, Dynamic and Individual. For those looking for added handling and precision, adaptive sport dampers and a dynamic steering are available as options.
Quote:
Design-wise, in addition to the sharper new lines, itís worth mentioning the aluminum-optic side mirrors, the front grille accented in platinum grey, the rear spoiler, the four exhaust pipes and the exclusively designed 19" wheels. Inside, the S4 distinguishes itself from the A4 by offering drivers a sport display mode for the virtual cockpit (speedometer and tachometer placed front and centre, plus the addition of a boost gauge and a lap timer).
Prices look as follows (CAD) :
$58,000 Progressiv trim
$62,100 Technik trim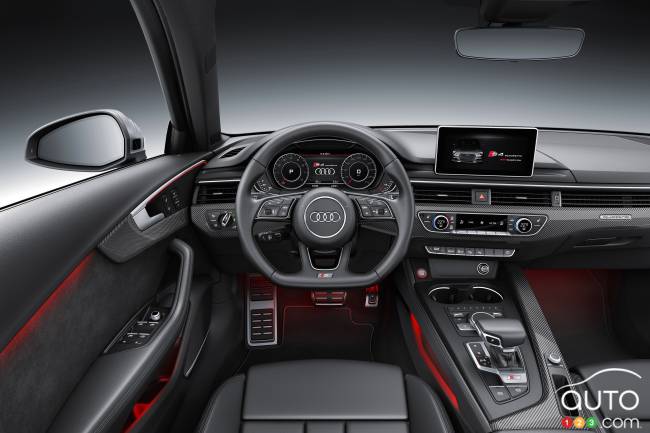 Info via:
Auto123
Senior Member
Join Date: Apr 2015
Posts: 165
I like how things are shaping up here because its starting to signal what the RS4 might be capable of and at this rate it could very well dethrone BMW, but Mercedes is going to be a tough one. Anyone here interested in the RS4?
Member
Join Date: Jun 2016
Posts: 90
The new RS4 is said to have around 450bhp .... that interests me very much. Especially because it's coming from a V6 !!
Member
Join Date: May 2016
Posts: 69
(Thread Starter)
Anything RS is definitely interesting to me.. but will I reach out for one, nope as it's out of my reach for being sensible unfortunately. There are the older ones, but I love the new body style and I'd rather buy something fresh and new instead of something that's probably been abused for years.
Member
Join Date: Jun 2016
Posts: 90
Not only abused but the older ones just aren't as good as these are. The whole refresh really brought a new love to the RS4 for me. I loved the performance of the older ones but aesthetically, they weren't there.
Senior Member
Join Date: Mar 2015
Posts: 282
I'm a bit skeptical about them as I am with any super high performance model since at that point the car maker really upped the threshold for performance and power. When looking for power and reliability you can only have so much of the former
Member
Join Date: Jun 2016
Posts: 90
That is definitely true. The good ol' saying : Fast, Cheap, and Reliable. You can only have two of them.
Posting Rules

You may post new threads

You may post replies

You may not post attachments

You may not edit your posts

---

HTML code is Off

---